"I'm skint. Trifling income robs me of the chance of owning a swag tenor ukulele. And definitely without it, life is a real bore."
This is a perennial problem for passionate yet penniless ukulele players.
Understanding that, we're very excited to present to our beautiful readers the five best tenor ukuleles under $200.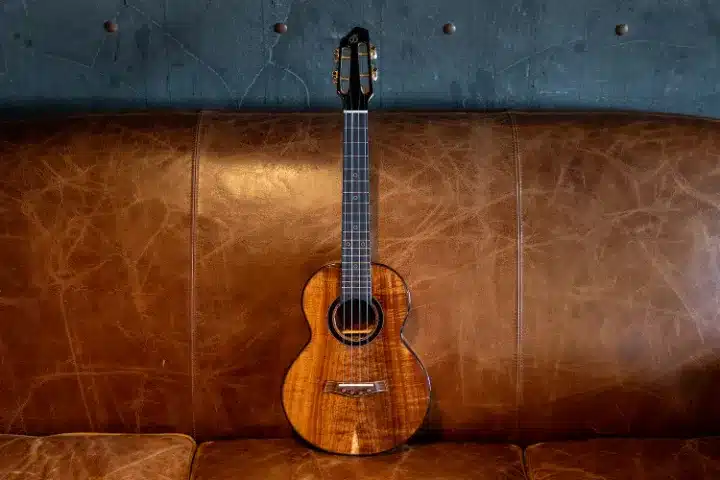 Collection Of 5 Best Tenor Ukuleles Under 200
Cordoba 15TM Tenor Ukulele
Cordoba is a teenagers' go-to ukulele manufacturing brand since it is where affordability meets quality. Going for quite an attractive price, under $200, this music player is handmade – a renowned uniqueness, and it sends out a rich, pleasing sound.
Let's say because it's naturally built with the material being the famous, budget-friendly mahogany, its sound, thus, is mesmerizingly soft and full. The beautiful notes are also a product of the combination of silver tuners, pearl buttons, and premium Aquila strings, all working harmoniously towards a rich, clear sound.
At first, I tried my hands on the ukulele to see how it could stand with my old concert ukulele, and it was just incredible. I no longer faced the same recurrent problem in my old player, which was that the string action was too high, and my unskilled fingers kept mixing around on the A string, while the bridge saddle required some lowering to play better.
However, it takes time for the strings to stretch out, which is also a problem in other guitars, basses, etc.
Pros
Handmade
Sleek, good-looking design
Durable
Rich, precise tone
Cons
The strings may take multiple tries to stretch correctly.
Tenor Ukulele Enya
I would recommend Enya Tenor's ukulele to those who value durability in a tenor ukulele. Besides, it also comes with many freebies – look at its name. That's a plush offer.
How thoughtful it is to offer all the extras we may need while playing the instrument. Let's name it. The brand provides a case and strap to pack your ukulele and take it out for a picnic celebration, an extra string set, and a customized gig bag just to put anything inside.
This instrument is also well-made. The HPL KOA material is optimal. Check it out, and you'll see your ukulele may sound exactly like a solid wood instrument or even better. The matte finish blesses it with a clean, soft feel, contributing to your enjoyment of the experience.
Wait, those high-end tuning pegs are gorgeous, too.
The G-string might be a bit crusty as sometimes it slips, so the player is off the track and has difficulty staying in tune. But then again, I believe it's a matter to overcome with daily practice. Understand your ukulele and be familiar with the way it works so that you can sail through these troubles and have a whale of time.
Pros
Smooth feel
Decent sound
Excellent quality and durability thanks to HPL material
The free offering of necessary accessories
Cons
Troubles dealing with the strings
Kmise Hawaiian Tenor ukulele
Kmise Soprano Ukulele Professional Mahogany Instrument 21 Inch Hawaiian Ukalalee for Beginner With Ukelele Starter Kit ( Free Online Lesson Bag Tuner Strap Replacement Strings Instruction Booklet )
SEALED 18: 1 GEAR TUNING MACHINE: In the higher gears, the ukulele string can be tuned more precise, keep ukulele stay in tune better than 15:1 gear tuning pegs, ensures you would not be troubled by 'out of tune' so fast. Our gear made of pure copper will be harder, less rusting. than ever. easy your playing.
CARBON NYLON STRINGS: Equipped advanced strings, and luthiers pre-tune the ukulele at a lower action before we ship it to ensure you can touch the strings easier. G String Action at 1st Fret is 0.019" and at 12tt Fret is 0.11"¡À 0.008".Offer Life Time Free String Replace.
FREE UKULELE ONLINE LESSONS: Kmise ukulele is the instrument of choice for schools - more people learn to play on it. Offer Free Online Lessons on our official website and How to Play Ukulele Quick Start Booklet.
A GREAT GIFT FOR MUSIC LOVER - Whether you¡¯re looking for a birthday, Valentine's Day, Christmas or graduation gifts, send this ukulele to anyone that likes playing guitar or someone that just loves music. This could be an awesome gift for adults, kids who are just getting started with Ukulele.
30 DAYS MONEY BACK GUARANTEE: If you are not satisfied with your ukulele or have any trouble with it, please contact us for replacement or full refund. We will do our best to make things right.
Kmise tenor ukulele is an awesome gift for ukulele beginners. It hits all the right notes and stays in tune better than ever. Equipped with the 18:1 gear tuner, this ukulele delivers outstanding sound and poses no challenges to even unskilled beginners.
Also, the manufacturer pre-tunes it at lower action and gives it carefully sanded frets, which adds flexibility and superb playability to the instrument. You can press down the string with ease, play on the fingerboard, and meddle with the fret wire ends without a hitch as they have been manicured.
It's well-crafted, with pure copper gear being less rusty, less corrosive, and more robust, with a mahogany top, back, and sides. The fingerboard comes in smooth walnut wood so that there's no need for fear of scratches or inevitable smudges.
Though this is the well-known master on "getting in tune," at first, don't be surprised if your ukulele slides out of note a bit since new strings need time to be more flexible.
Pros
18:1 radio tuner
Playable, comfortable touch
Starter accessories kit included
Lower action
Solid construction
Cons
Strings are too tight at first
Kala KA-15T Tenor Ukulele
Kala KA-15S Satin Mahogany Soprano Ukulele Bundle with Gig Bag, Tuner, Strap, and Aquila Strings
Entry-Level: The Kala KA-15S Satin Mahogany Soprano 4-String Ukulele is an entry level staple for new players and a great addition for seasoned players looking to add an affordable, high-quality, attractive soprano ukulele to their collection
Finish: It features a premium rich satin mahogany finish
Application: It is perfect for learning in classrooms and homes
Optimal Sound Quality: This Soprano pumps out a lot of sound despite its diminutive size, and the all-mahogany construction delivers a tone that is bright, yet warm with enough volume that you will be heard while playing with a group
Includes: The ukulele comes with a gig bag, tuner, strap and strings
It's fascinating that your family forms a band, with each member being a ukulele artist. For this new band to get off the ground and go mainstream, you need a ukulele that can work in harmony with your beloved people regardless of generation gap and levels. Kala KA-15T Satin is the best bet.
No wonder it checks the industry standard. The design sends off a sense of tradition – delivering the feel of classic Hawaii, but a satin finish brings out the elegant, modern beauty. The all-mahogany body augments its self-worth by ensuring a full, warm sound. Together, these qualities make this ukulele super resilient to fickle weather conditions and humidity.
Better still, it has been heralded as a staple for generations because it comes in three different sizes, featuring Aquila Bionylon strings for easy manipulation while playing.
Furthermore, what I find strikingly impressive is that the vibe of this player is an intriguing combination of Petaluma's gold rush history and modernity. So, all in all, it's a sense of nostalgia.
We expect this ukulele to come along with a case. Sadly, this ukulele is lacking in a case. Also, strings may have sharp tones, especially when you play solo.
Pros
Suitable for adults and children alike
Rich sound
Solid build, durable
Both classic and modern look come into one
Cons
Lacking in a case
The strings are not cooperative when soloing.
Oscar Schmidt OU28TE
Oscar Schmidt usually stays at the cheaper end of the price scale, but it is a potential contender for quality.
I recommend it to those who have larger hands, so other little ukes are just unfit. At about 37/17/8 inches, this is just a further reaching out than average. The first time I fiddled with this model, the experience was all but pleasantly rewarding. The tones are vibrant. It also feels nice under my fingers.
I love the active electronics that this model focuses on, together with the pearl dot fret inlays, as the sound it produces resonates well with plenty of depth.
Besides, the satin finish gives it a nice touch. There are eight strings with two octaves and two unison tuning. The top of the neck is longer than average for the extra frets and more room on the fingerboard.
It's worth an investment, except that in this model, keeping in tune can be a chore. But I genuinely believe you can conquer it with regular practice!
Pros
Handcrafted Quality
Full mahogany construction with satin finish
Excellent performance with both highs and lows
Cons
Staying in tune can be a challenge at first.
Buying Guide 
The three main constituents, material, size, and budget, will define the best tenor ukulele.
Material
Material is the factor that influences your overall feel over the ukulele. It also speaks volumes about how your tenor ukulele sounds. Will the melody be mellifluous like birdsongs, warm and smooth, precisely like how an electronic guitar piano feels? Does it provide enough resonance, with sweet highs and fancy lows?
Usually, the ukulele comes with a mahogany top, sides, back, and neck, and sometimes it can also be from monkeypod, mango, koa, etc.
Manufacturers usually pick koa as the best bet for classy, high-end ukuleles as it originates in Hawaii. Thus, very likely, the sound it produces will wash the listeners to the beautiful beaches of its hometown.
Solid mahogany has a smooth sound and is more affordable, which is why it is considered a commercial material.
Solid and laminated wood is very different. The former is more expensive, yet it ensures high-quality wood in both internals and externals. Meanwhile, the latter means good wood on the surface but second-rate one deep inside.
Size
The Ukulele family has its "debut" with four official members: soprano, concert, tenor, and baritone.
In terms of size, the baritone ranks first at 30 inches, followed by the tenor at 26. The second and third place call out concert (23 inches) and soprano (20 inches).
Soprano receives tons of compliments for its classic ukulele sound, while the concert requires no complex maneuvers – tailored for unskilled fingers.
The most favorable one by ukulele connoisseurs is tenor, which sounds deeper and more professional.
Besides, the biggest sibling is not very portable, but it has the deepest tone to enjoy.
Budget
With under $200, you are fully capable of having a trusty ukulele player. The average price range from 50 to $100 is reasonable; at the same time, it doesn't compromise quality. A ukulele of this budget will do well for those who have just kicked off on the journey. These models will be particularly easy to handle, and they sometimes go with extra accessories to assist beginners.
A Sum-Up 
This is the battle of 5 best tenor ukulele under $200. If you still wonder, you could check our blog's best brand of ukulele to reinforce your choices.
To my concern, the undisputed winner is the Kmise Hawaiian Tenor ukulele since it will be supportive enough for a beginner player. It will not be much of a troublemaker. Besides, it aims for a sweet, pleasant sound and precise notes, and the finish is durable enough. If your main worry is staying in tune, this Kmise ukulele can't be a nicer option.
The feedback for this player is mostly glowing, so it gives me the confidence to have a shot at it. Now, it's your turn!