If you are looking for a quality pedal for your guitar, you have come to the right place. We've reviewed some of the best guitar pedals the market has to offer, including distortion pedal models, delay pedal models, looper models, reverb pedals, compressor pedals, volume pedals and more.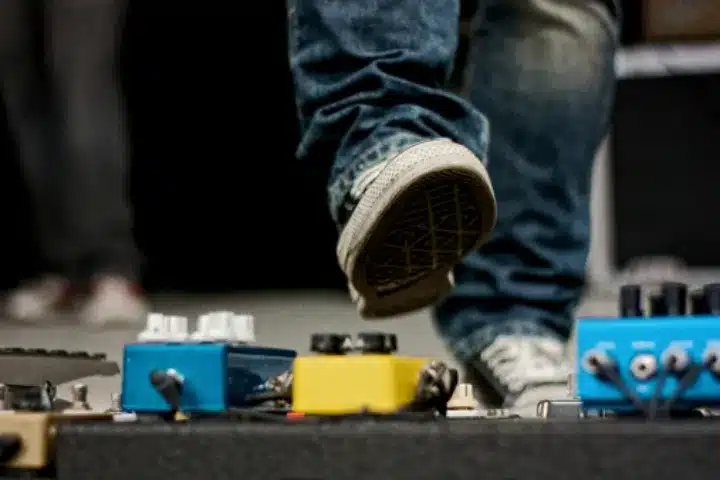 Top Cheap Guitar Pedals Reviews
Here are a few of our favorite inexpensive guitar pedals in 2023.
TC Electronic Dark Matter Distortion Stompbox Effect Pedal
[amazon box="B004OK5TRQ"]
Pedal type: Distortion
Perfect for metal and rock
Highly responsive tone controls
Packed with tons of gain
Let's start off with TC Electronic's 'Dark Matter' distortion pedal. This particular model is true to its name – it's dark and offers plenty of Gain, making it perfect for heavier genres of music. It packs four main tone controls, including gain, level, bass, and treble, and a 'voice' switch. Using it is super easy, mainly because the control knobs are highly, but not overly responsive. You'll notice clear, audible differences as you tweak with them. However, taming this beast might prove to be a challenge. Namely, it's packed with drive even at the lowest 'gain' settings, so you'll probably have some difficulties switching to cleans if needed. It might not be as big as the Big Muff, but it screams and roars like a bat out of hell. On the flip side, this isn't so much of a downfall for rockers and metalheads since they typically avoid cleaner, mellower tones altogether. The Dark Matter pedal features a true bypass switch that you can use to single it out from your chain, as well as the 'voice' switch, which completely changes the way the bass frequencies respond to this pedal (and vice versa). It also has a tiny footprint and can fit into any pedalboard setup.
TTONE's Double Channel AB Line Selector Looper Pedal
[amazon box="B01COXEBT6″]
Pedal type: Line Selector
Diecast aluminum housing
True bypass
Two channels
Next up is TTone's double channel Looper pedal. It's one of the best cheap guitar pedals on the market as it sports a huge variety of cool features, including true bypass, clearly visible LED indicators and a diecast aluminum housing.
What makes this pedal so great is the fact that it's incredibly easy to use. This pedal doesn't feature any volume or tone control knobs; it comes supplied with a single power on/off button, which makes it absolutely ideal for beginners.
This is a passive pedal that has a very straightforward learning curve; on top of all the beginner-friendly benefits it brings to the table, this pedal also provides two channels, which means that you'll be able to create wild loops with a friend too.
Last, but certainly not least, this pedal is built like a house of bricks. Its aluminum casing can easily withstand years and years of use. It does pack a big footprint, though, and it will most likely take up to two pedal spaces in a pedalboard.
Donner Guitar Delay Pedal
[amazon box="B00GRRN2RI"]
Pedal type: Delay
One of the best budget delay pedals on the market
True bypass
LED lights
AMMON's MOSKY MP-51 is probably one the best guitar pedals in the reverb section; it's cheap, but its performance can easily go toe to toe with certain more expensive models, such as TC Electronic, for example.
There are just two control knobs onboard, including 'mix' and 'dwell', both of which affect how the reverb behaves. This pedal sports true bypass and LED light indicator, as well as a highly robust metal case.
It has one of the smallest footprints available and takes up the smallest amount of space possible. On top of that, it's highly robust and remarkably easy to use, which makes it a perfect choice for beginners and guitarists who have some experience.
FLAMMA FC02 Mini Reverb Pedal Digital Guitar
[amazon box="B091F5SSH6″]
Pedal type: Reverb
Very responsive
Vintage delay sound
Very high value
The FLAMMA FC02 Mini Reverb Pedal Digital Guitar is an excellent choice for those looking to add more realism and ambience to their sound.
The pedal includes three high-quality reverb effects – Studio, Church, and Plate – with each providing a unique sonic atmosphere perfect for any style of playing. The True Bypass circuit ensures that no tone is lost when the pedal is off, while its durable metal shell provides protection from wear and tear.
The 9V power supply makes it easy to connect to any rig. All in all, this pedal is an ideal choice for anyone looking to add some depth and character to their sound.
Donner Digital Reverb Guitar Effect Pedal
[amazon box="B0787PGZG3″]
Pedal type: Reverb
Three high-quality reverb effects
Bypass circuit
9V power supply
Donner is a brand that specializes in manufacturing budget low-end guitar pedals, and here we are looking at their digital reverb guitar effect pedal. Interestingly enough, this pedal is so versatile that it packs a huge variety of reverb modes, including room, hall, spring, plate, studio, hall, and mod.
There are three control knobs onboard, including Level, Decay, and Tone, all of which are pretty responsive overall.
All of the reverb modes are completely digitalized, even the ones that are originally analog by design. It's powered by a standard DC 9 volt adapter; sadly, the adapter needs to be purchased separately.
On the brighter side of things, Donner's digital reverb features a petite footprint and is incredibly compact. Furthermore, it's highly robust as it sports an aluminum alloy casing. It's very easy to use, it sounds quite good, and it's available at a bargain price.
Joyo Multimode Wah-II Multifunctional Wah
[amazon box="B085PXY3L2″]
Pedal type: Volume/Wah
Versatile
Features two selectable modes and a set of three volume-control knobs
Massive value for the price
Wah wah guitar pedals are typically quite expensive; in fact, most models cost at least $150 or so. Joyo's multimode Wah II is not one of them – it's available at a very approachable price, and it boasts almost the same level of functionality as its more expensive counterparts.
It sports easily accessible volume controls on the right side of the construction, including Wah volume/bypass, 'Min volume', 'quality', and 'range'. The prints on these knobs are somewhat misleading; the 'quality' actually refers to the complexity of the wah overtones while the 'range' actually affects the frequencies filtered through the driver.
The 'Min Vol' generally affects the minimum volume the pedal will output when turned on. Apart from that, the only controllable feature of this pedal is the wah foot-switch, which operates on the same principle as all wah pedals do.
The design of Joyo's Wah II is quite interesting. It's smaller than an average wah, and it boasts a robust aluminum casing. Overall, you couldn't ask for more of a budget effect pedal.
Boss DS-1 Distortion
[amazon box="B0065KP702″]
Pedal type: Distortion
One of the best guitar effects pedals in the budget section
Capable of producing slightly fuzzy tones and massive rock crushers just the same
Suitable for both beginner and skilled guitar players
If you are looking for a quality guitar pedal, you should definitely check out this Boss pedal. The Boss DS-1 is a classic guitar distortion pedal that is favored by beginners and seasoned veterans alike.
Simply put, what draws most guitarists towards this pedal model is its vintage 80s tone. It's very crispy and distinct, reminiscent only of other Boss pedals that have come at a later date. The DS 1 distortion is suitable for all kinds of heavier music, including hard rock, and most sub-genres of metal, but it could also work just fine in somewhat tamer music directions.
You'll be able to use the three control knobs (tone, distortion, and level) to go from slightly fuzzy tones, across dirty overdrive effects, to massive chugs for the most extreme types of metal.
It comes in a classic Boss housing and sports a familiar small-footprint design. In comparison to most budget distortion pedals out there, it's pretty safe to say that Boss's DS 1 boasts the highest level of versatility.
Looper Guitar Effect Pedal LEKATO Looper Guitar
[amazon box="B083W886HN"]
Pedal type: Looper
Quality aluminum alloy
Reliable and durable
24-bit uncompressed high-quality audio
It's a great way to create unique and interesting sounds with your guitar. The pedal is made of durable aluminum alloy and is surprisingly small, which makes it easy to carry around and use in multiple setups.
The sound quality is crisp and clear, and I love the fact that it has an Analog-Dry-Through design which ensures a pure lossless sound. With its single knob operation, it's very easy to adjust loop playback volume. Plus, with 5 minutes of clear looping and unlimited overdubbing capabilities, you can create some really complex and creative sounds.
The USB charging cable is also a great addition, allowing you to easily import and export with no loss of quality. All in all, this pedal is an amazing value for the price, and I highly recommend it! Thanks LEKATO Guitar!
SONICAKE Fuzz Guitar Effect Pedal
[amazon box="B089KD8MZC"]
Pedal type: Bass,Distortion
Classic creamy fuzz to high-gain fuzzy distortion
Wide tone control rang
Bypass footswitch
This 100% analog circuit pedal provides a wide range of sounds, from classic creamy fuzz to high gain fuzzy distortion. The sound of this pedal is designed for both guitar and bass, so you can get the desired tone no matter the instrument you are playing.
The tone control range is also quite impressive, going from pitch dark to aggressively blasting. What I like the most about this guitar effects pedal though is the true bypass footswitch which keeps a clean signal path for the pedal. It works with 9V center negative regular pedal power supply (which unfortunately does not come included), but it's worth it.
All in all, I highly recommend SONICAKE Fuzz Guitar Effect Pedal for anyone looking for a high-quality guitar effects pedal. It's definitely worth the investment!
VSN Bluesy Guitar Pedal
[amazon box="B094C2KNHM"]
Pedal type: Distortion,Expression,Mini
Vintage vacuum tube amplifier effect
Distinct tone
Remarkable dynamic expression
I've been looking for the perfect guitar pedal to give my music a more vintage and bluesy feel, and I'm so glad I found the VSN Bluesy Guitar Pedal! This pedal has helped me bring a new level of expression to my sound, allowing me to add richness and depth that I never thought possible. It has two working modes – Fat and Normal – so I can easily find the perfect tone for whatever project I'm working on.
The Volume, Tone, and Gain knobs give me precise control over my sound, and the true bypass footswitch lets me engage the pedal without any signal loss or alteration to my original tone. Plus, it's compact and portable so I can take it with me wherever I go.
The VSN Bluesy Guitar Pedal is an excellent choice for guitarists looking to add a classic blues vibe to their music!
Frequently Asked Questions about Cheap Guitar Pedals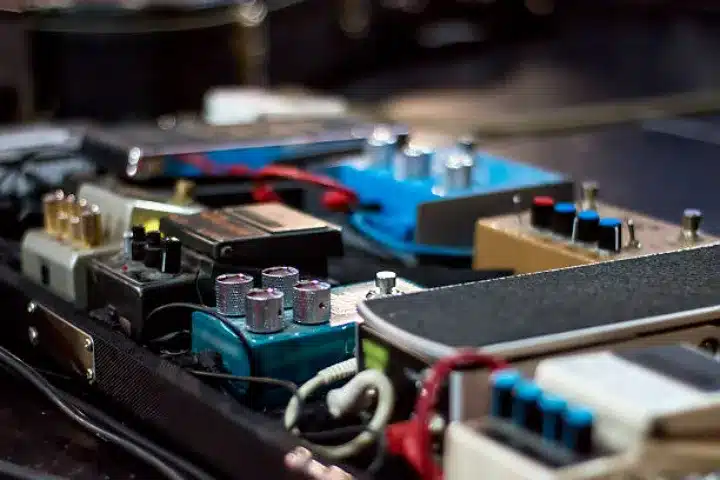 What are the most popular cheap guitar pedal brands?
There are so many budget guitar pedal brands that you'll probably need weeks to sift through their catalog and twice as much time to memorize their names. Additionally, certain pedals in the budget price range are considered as top-quality models regardless of their price labels, such as Big Muff or Boss's DS 1, for example.
Some of the most popular cheap guitar brands are Mooer, Danelectro, Behringer, Joyo, Biyang, Ammoon, Donner, and Caline. TC Electronic also features a couple of cheap guitar pedals too, even though it's a bigger brand.
Are Donner pedals any good?
Donner pedals might not be too creative or genuine, but that's why they actually are a bit better than average cheap pedals. They're replicas and clones of high-quality pedals made by industry leaders with a slightly different configuration and setup. While most budget pedal brands also dabble in replicating top-tier pedal schematics, Donner's doing just a slightly better job for the price.
Are Donner and Mooer the same?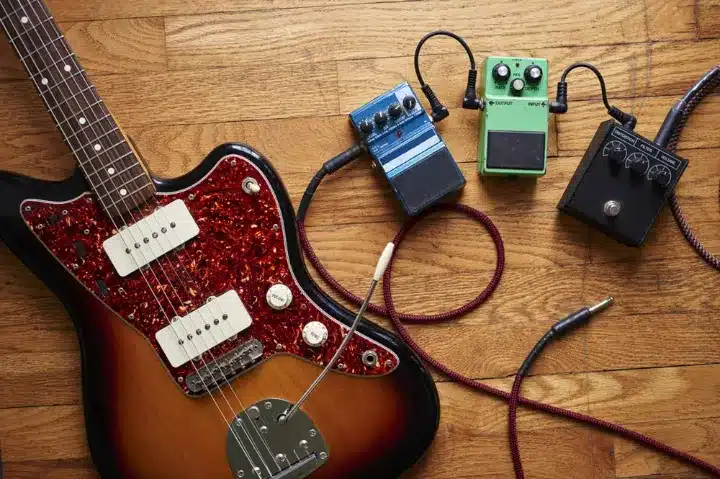 Donner and Mooer are two separate brands, so in that regard, they are not one and the same. However, most people who have used pedals from both brands have noticed a peculiar amount of similarities between them, which could make you think that they're built by the same team of engineers.
The reason why Mooer and Donner pedals look, sound, and perform almost exactly the same is that they come supplied with the same type (if not even the same model) of circuitry and hardware.
Are Mosky pedals good?
We've included one of the Mosky pedals, the MP-51 Spring Reverb, in our review because it actually is pretty good for the money, just like most Mosky pedals. One thing in common with the vast majority of Mosky cheap pedals is that they're all (almost exclusively) within the budget price point category.
Even though they're dirt cheap, these pedals boast a huge level of performance. For example, the MP-51 is a strong, relatively authentic reverb; the Sho booster is simple but incredibly effective, and the Black Rat distortion is actually one of the strongest distortion pedals in this price range. In short, yes, Mosky pedals are quite great for the price.
Are Behringer pedals good?
Behringer does not only make great pedal guitar models, but they also boast a catalog of some of the best cheap guitar models on the market. Their V-Tone Acoustic Driver is easily one of the best cheap guitar pedals they have to offer, and the same can be said about their Vintage Tube Monster.