Many people, including you, have fallen in love with baritone ukuleles. It is easy to understand, for they have such depth and resonance to the sound. Be that as it may, choosing the best baritone ukulele might be a challenge for many players.
It is mainly due to the availability of hundreds of baritone uke brands, which makes players, especially the inexperienced ones, more confused than ever. That is the reason why we made this review today, with the hope of giving you some useful suggestions.
We are going to evaluate each product based on the following:
The sound quality: How good is the sound production of the product?
The design: Is the instrument made of high-quality material and user-friendly construction? 
The tuners: How easy is the tuning process, and can you further expand its original sound?
Those are some of the most important factors to consider when looking for a baritone ukulele. We will elaborate on that later in our buying guide.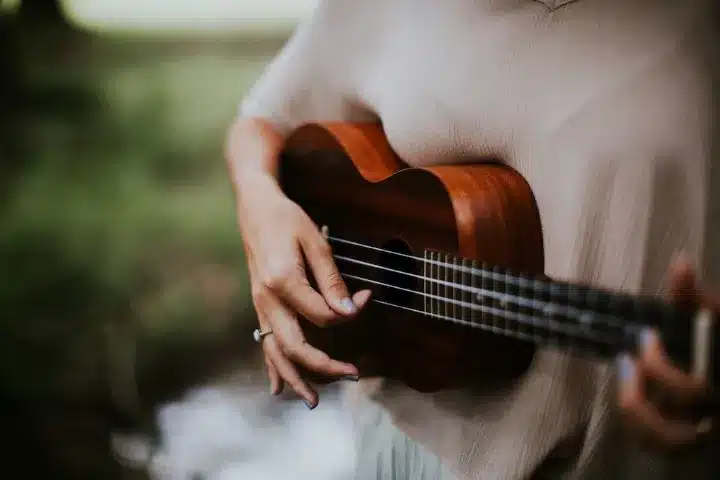 In-depth Reviews Of Top Five Best Baritone Ukuleles
Now, let's take a closer look at each of the five best products. We will weigh up their pros and cons and give you some useful advice to make an informed decision. 
Kala KA-B Baritone Ukulele – Best Sound Quality
Sale
Kala KA-B Mahogany Baritone Ukulele
Kala Ukulele, known for high-quality instruments, is the most recognized and sought after ukulele brand in the world. Kala ukuleles are the instrument of choice for schools - more people learn to play on a Kala than any other ukulele brand
Country of origin: CN
Model: KA-B
Brand: Kala Brand Music Co.
Editor's Rating 
Sound quality: 10/10
Design: 9/10
Tuners: 9/10
If you have a liking for mid-range instruments, you shouldn't overlook this KA-B model from Kala. 
This name should ring a bell with you since their products are incredibly sought-after and have top-notch qualities. This instrument continues that winning tradition.
What impresses us the most is definitely its sound quality, thanks to the solid construction. The manufacturer uses high-grade mahogany for most parts of the instrument's body. 
As you might have known, a mahogany uke will sustain the sound longer, accent the bass and treble better, as well as stabilize the notes to give your instrument a warmer, more balanced tone. 
On the other hand, the uke's top is constructed of spruce. The material greatly amplifies the sound and adds more volume to the playing. 
Therefore, playing in crowded places with lots of background noise won't be a problem with this unit. The sound will always be clear, and the bass will always be deep!
Problems With This Product
The measurements of this KA-B model might put some people off. It is considerably long, with a total length of 30.5 inches. 
For that reason, for those looking for a portable uke to bring along on their trips, this nominee might not be the perfect fit.
Advice From Experts And Users
You can easily transform this acoustic uke into an electric instrument within seconds. The product won't come with an amplifier, but it has all the necessary tools, such as the Fishman pickup and the chrome tuner setup. 
For that reason, if you want to spice up your songs with some electronic sound, remember to purchase an amplifier along with the uke itself!
Cordoba Baritone 20BM Ukulele – Best For Intermediate Players
Kmise Soprano Ukulele Professional Mahogany Instrument 21 Inch Hawaiian Ukalalee for Beginner With Ukelele Starter Kit ( Free Online Lesson Bag Tuner Strap Replacement Strings Instruction Booklet )
SEALED 18: 1 GEAR TUNING MACHINE: In the higher gears, the ukulele string can be tuned more precise, keep ukulele stay in tune better than 15:1 gear tuning pegs, ensures you would not be troubled by 'out of tune' so fast. Our gear made of pure copper will be harder, less rusting. than ever. easy your playing.
CARBON NYLON STRINGS: Equipped advanced strings, and luthiers pre-tune the ukulele at a lower action before we ship it to ensure you can touch the strings easier. G String Action at 1st Fret is 0.019" and at 12tt Fret is 0.11"¡À 0.008".Offer Life Time Free String Replace.
FREE UKULELE ONLINE LESSONS: Kmise ukulele is the instrument of choice for schools - more people learn to play on it. Offer Free Online Lessons on our official website and How to Play Ukulele Quick Start Booklet.
A GREAT GIFT FOR MUSIC LOVER - Whether you¡¯re looking for a birthday, Valentine's Day, Christmas or graduation gifts, send this ukulele to anyone that likes playing guitar or someone that just loves music. This could be an awesome gift for adults, kids who are just getting started with Ukulele.
30 DAYS MONEY BACK GUARANTEE: If you are not satisfied with your ukulele or have any trouble with it, please contact us for replacement or full refund. We will do our best to make things right.
Editor's Rating 
Sound quality: 9/10
Design: 8/10
Tuners: 9/10
This 20BM baritone uke from Cordoba is a great option for those transitioning from the beginning to a more advanced level. 
If you don't know much about the ukulele in general, the name Cordoba might not be familiar to you. However, this brand has been rising in popularity recently since its products are very well-made with exceptional sound production. 
It would be hard to believe, but this 20BM is the first baritone model that Cordoba has ever made. Anyhow, the final product is better than anyone can imagine. 
This instrument produces such a warm, sweet tone with a solid mahogany body and a rosewood fingerboard. The walnut bridge, the solid saddle, and the NuBone nut also contribute to the sustain, volume, and projection of the uke's sound.
In terms of construction, the thing that makes this model stand out is the string placement. The broad space between each string allows the player to strum with comfort. 
It can be an advantage for anyone who is a guitar player or already plays ukes efficiently. 
Problems With This Product
The 20BM baritone uke might cause some trouble for novices since the wide fretboard makes it slightly hard to form and change the chords. Therefore, if you are new to the UKE world, this pick is probably not the best one to start with. 
Advice From Experts And Users
We highly suggest this instrument to people who want to play the ukulele with prior guitar experience. The rosewood fretboards and the string placement might be a good help for your fingers to adjust from the guitar.
Kmise KMU30B Baritone Ukulele – Best For The Price
Sale
Editor's Rating
Sound quality: 8/10
Design: 8/10
Tuners: 8/10
When the topic of the budget is on the table, the name KMU30B should be one of the top products. It is a wonderful creation from the brand Kmise. They are well-known for offering the most affordable baritone ukulele with excellent quality. 
Construction-wise, the body is fully mahogany, while the walnut fingerboard helps increase durability and sound projection. 
Also, covering the whole uke is a satin gloss finish. This glossy-like layer brings a breath of fresh air to the instrument's look. It gives the uke a unique accent by bringing out the natural brownish color of the mahogany and walnut. 
Moreover, the price already includes an assortment of extra features. Everything from the gig bag, the comfortable neck strap, and pickings for solo playing to a set of extra strings for replacement are already available with the ukulele set. 
Problems With This Product
The main drawback of this Kmise KMU30B is probably its limitation in sound production. 
Apart from the classic tone of the ukulele, which is bright, cheery, and warm sounds, there is barely anything more that you can expect from the instrument. 
Advice From Experts And Users
You can take advantage of the accessories that come with the instrument in so many different ways. For instance, when you want to adjust the ukulele's truss rod, you can use the included Allen key to modify the action quickly. 
Kala MK-B Baritone Ukulele – Perfect Starter Instrument
Kala Satin Mahogany Concert Ukulele with White Binding (KA-C),Brown
Kala Concert Mahogany Ukulele in a rich, satin finish with bright, contrasting cream binding. As the industry leader, our focus is to provide you with a high-quality, great sounding ukulele at an affordable price.
These are gorgeous instruments that sound and play much more like an expensive, one-off, boutique-grade ukulele and have a warm, full-bodied, balanced tone.
Comes with Graphtec NuBone nut and saddle, Silver Nickel Frets, Chrome Die-Cast Tuners, & Aquila Super Nylgut strings from Italy
Kala ukuleles are played by some of the most renowned players around the world including: twenty one pilots, Vance Joy, dodie, EatMyUke, The Ukulele Teacher, and Zac Brown.
CONCERT UKULELE – This would be considered a mid-sized ukulele with a bit longer scale and more frets than a soprano, which also makes it louder – tuned G C E A.
Editor's Rating
Sound quality: 9/10
Design: 8/10
Tuners: 10/10
This MK-B uke model from Kala is, without any doubt, the most tailor-made option for complete beginners. It will be even better if you want to set off your uke-playing journey with a baritone instrument.
When it comes to ukulele sizes, the MK-B mahogany neck is relatively long and broad compared to the standard measurements for a baritone uke. This design is considerably advantageous for beginners.
When inexperienced players practice pressing the strings and forming and changing chords, their fingers need more room to maneuver than experienced ukulele players.
A broad mahogany neck brings more comfort to the fingers, even to someone who has never done that before. Another feature that makes this product the best fit for novices is the material used for the string set. 
It is made from high-quality nylon called Aquila Super Nylgut. With flexibility and elasticity, it protects your fingers from getting sore even when you press the nylon strings for a long time.
On top of that, this model is extremely portable. Its scale length is only about 20 inches, and its weight is less than 3 pounds. Therefore, you can bring it along with no inconvenience at all.
Problems With This Product
The only quibble with the product is the lack of strap buttons. Those buttons serve to support the neck strap, helping to travel the instrument more comfortably. 
It is advisable to add some strap buttons to this ukulele. It might not be too hard, but you will have to pay extra money for something that nearly every other product has for free.
Advice From Experts And Users
Everything that the Kala MK-B offers has approved its compatibility with novice players. 
Therefore, we recommend this product only to people who start to play the uke. If you are an intermediate or advanced player, this uke might not be the best choice.
Caramel CB500 Baritone Ukulele – Best For Look
Kala KA-15S Mahogany Soprano Ukulele
Kala's KA-15S came into the world in 2005 as the answer to a high-quality, affordable, entry-level ukulele and still remains the unrivaled ukulele in its class.
The KA-15S is well-suited for classroom use, practicing, and acoustic performance. It is the instrument of choice for schools - More people learn to play on a Kala than any other ukulele brand
A very traditional Mahogany Soprano Ukulele in a satin finish with a bright, warm, full-bodied tone.
Comes with a beautiful Walnut Fingerboard and Bridge, Mahogany Neck, 12 Brass Frets, GraphTech NuBone and Aquila Super Nylgut Strings from Italy and distinguished by its etched Polynesian-style Shark Teeth rosette
Kala ukuleles are played by some of the most renowned players around the world including: twenty one pilots, Vance Joy, dodie, EatMyUke, The Ukulele Teacher, and Zac Brown.
Editor's Rating
Sound quality: 9/10
Design: 10/10
Tuners: 8/10
The last baritone uke you should check out is this unique electric-acoustic CB500 model from Caramel.
At a glance, you probably have figured out why this nominee is supposedly the best-looking one on the list. In an attempt to break the norm and find a signature design for the brand, Caramel has come up with this one-of-a-kind look.
A sound hole plays an important part in evenly projecting the sound and balancing out the pressure of the instrument's inside when the nylon strings vibrate. 
With a standard ukulele design, the soundhole often stays at the body center. Alternatively, it can sit right beneath the joining point of the neck's lower end and the uke's body. 
On the other hand, the soundhole of the CB500 is near the top, on the right side of the body. Covering this area is a mirror-like gloss finish. What's more, there is a leaf-shaped decoration wrapping around the holes and cream binding wrapping around the body edge.
This eye-catching and creative design is sometimes the main reason some people purchase the product in the first place. 
Problems With This Product
The only downside of the Caramel CB500 is its string quality. Thetrings is only low-quality nylon with little elasticity and durability. Hence, the string set will not last for long and can distort the uke sound after a short period. 
Advice From Experts And Users
Since the CB500 model is an electric-acoustic uke, it features three EQ settings and a chromatic tuner to help you set up the standard ukulele tuning or modify the bass, middle, and treble while playing electrically. 
However, instead of using standard batteries, the EQ uses the watch type. Therefore, it would be best to have a few extra batteries in case something unexpected happens. 
A Buying Guide On How To Find The Best Baritone Ukulele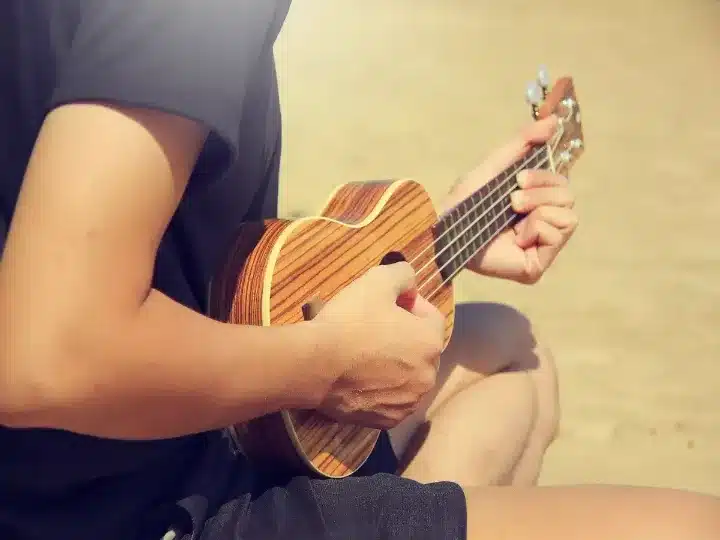 Just like other types of ukulele, there are a lot of factors that go into choosing the best baritone ukulele for oneself. It is a long process, and you need to be aware of every important criterion to be able to find the most matching one for your personal preferences. 
We are going to list out some of the most essential factors to look into before you decide on an instrument.
The Sound Production
Since you are looking for an instrument to play music, the very first thing to look into is obviously its sound quality. So, what makes a baritone ukulele with good sound production?
There is no specific answer to this question. Even though they all fall into the category of baritone ukulele models, it doesn't mean they sound the exact same. The material, the string setup, and the quality can affect the instrument's sound significantly. 
Therefore, when trying out different products, listen carefully to each one's sound and see which one you like best. A good baritone uke should have good tonal qualities such as a rich tone, a mellow tone, etc.
The String Action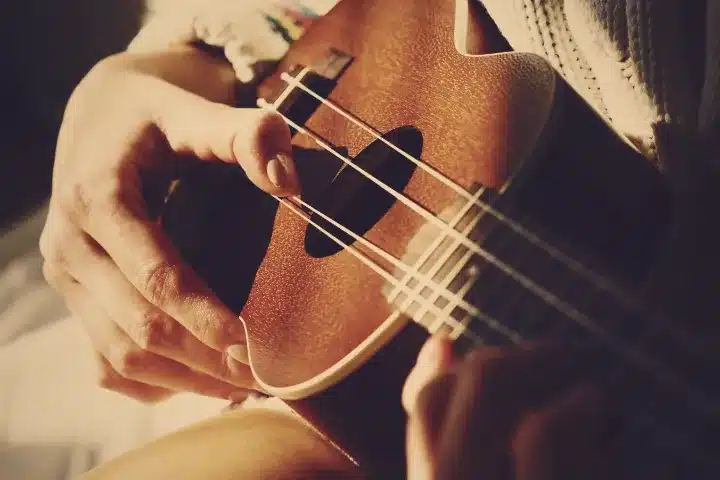 A quality instrument should have a good string action. A setup is good when the string action is not too low or too high. A low-action uke can't produce a nice sound since the narrow space between the strings and the neck can cause sound buzzings and distortions. 
However, a high-action uke can't create a nice sound, either. The far distance requires too much hand force to reach the fretboard. 
Most uke comes with geared tuners and truss rods to help adjust the action easily. We advise you to choose a high-action uke over a low-action one since it is easier to fix the prior one.
Acoustic Vs. Acoustic-electric 
Acoustic is the original sound of all the instruments, and baritone ukes are no exception. Acoustic baritone has been the most popular option up to these days. Most people start on acoustic instruments since the sound is less distorted and more natural. 
The body construction of an uke is very similar to that of an acoustic guitar. Its body is hollow, and there is a hole in the body to reduce the pressure on the instrument's inside and outside.
On the other hand, an acoustic-electric ukulele has some extra built-in electronics to support the amplifier. When the amp is on, the uke will have some differences in tone. More specifically, the inbuilt electronics will produce a deeper tone with more bass and bigger volume.
The Material
Last but not least, let's talk about the instrument's material. Ukulele players usually overlook this factor, but the quality materials are as equally important as the ability of the instrument to produce a rich tone or a beautiful sound.
One of the most common woods in uke making is Koa since they are offered at such an affordable price. Instruments made of Koa laminated wood usually have natural wood grain and have a rich sound and bright tone. 
The second most-used material of choice is mahogany wood. This material also appears in the making of soprano ukuleles, concert ukuleles, and tenor ukuleles. Laminated mahogany ukes have a softer sound than Koa.
The other common material is Acacia wood. It is considered one of the most solid woods. Ukes with solid Acacia wood produce bassier and deeper sounds.
The Bottom Line
You have eventually reached the end of our post about the best baritone ukulele. We hope our recommendations can help you pick out the most beautiful baritone ukulele for your playing style. 
Before taking the plunge, it would be best to carefully check the product's specifications to make sure it matches what you are looking for. Refer to our buying guide when evaluating an instrument to make a better decision!
If you are still in two minds about which instrument to choose, give the Kala KA-B Baritone Ukulele a go. It offers excellent sound quality and is suitable for people of all playing levels.